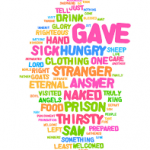 "…Most of all, love each other as if your life depended on it. Love makes up for practically anything. Be quick to give a meal to the hungry, a bed to the homeless—cheerfully. Be generous with the different things God gave you, passing them around so all get in on it: if words, let it be God's words; if help, let it be God's hearty help…"
From 1 Peter Chapter 4 ( The Message)
Are you looking for new ways to serve Jesus Christ in your local church and community ?
Here are just a few ideas – are any of them for you?
SERVING GOD IN OUR LOCAL CHURCH FAMILY
Working with Children & Young People:

We still need leaders and helpers for our 2019/20 Season in GB, BB and Youth Club
We need more Sunday School leaders and helpers to participate in a Rota on Sunday Mornings
We need more volunteers to help  with our Creche ( for pre-school children)

Hospitality or Fundraising
We need to add to our list of people who would be prepared to help with future fundraising projects
We need to add to our list of people who might be able to help with future hospitality needs
Pastoral Care
Would you be prepared to undertake training to become a member of our Pastoral Care Team?
If you would like to explore any of these opportunities further speak to any Elder or e mail us at cairncastlepresbyterian@gmail.com
SERVING GOD IN OUR LOCAL COMMUNITY
Could you volunteer to help with Larne Foodbank? https://larne.foodbank.org.uk
SERVING GOD BY PRAYING FOR OTHERS
If you don't feel able to undertake any of these projects, do you feel called to pray for others? Find out more on our 'Pray Together' page