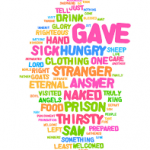 "…Most of all, love each other as if your life depended on it. Love makes up for practically anything. Be quick to give a meal to the hungry, a bed to the homeless—cheerfully. Be generous with the different things God gave you, passing them around so all get in on it: if words, let it be God's words; if help, let it be God's hearty help…"
From 1 Peter Chapter 4 ( The Message)
Are you looking for new ways to serve Jesus Christ in your local church and community ?
Here are just a few ideas – are any of them for you?
SERVING GOD IN OUR LOCAL CHURCH FAMILY
Working with Children & Young People
Hospitality or Fundraising
Pastoral Care
If you would like to explore any of these opportunities further speak to any Elder or email us at cairncastlepresbyterian@gmail.com
SERVING GOD IN OUR LOCAL COMMUNITY
Could you volunteer to help with Larne Foodbank?