1st Cairncastle Boys' Brigade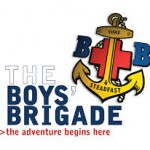 The object of the Boys' Brigade is:
"The advancement of Christ's kingdom among Boys and the promotion of habits of Obedience, Reverence, Discipline, Self-respect and all that tends towards a true Christian manliness."
The motto of the Boys' Brigade is:
'Sure & Steadfast'
The motto is taken from the bible, the book of Hebrews, Chapter 6, Verse 19.
Anchor Boys  (boys aged 5 to 8 – Primary 1 to Primary 4)
Anchor Boys meet in the church halls from 6.30pm to 7.30pm.
The Anchor Boys will recommence in mid September 2019
Junior Section  (boys aged 8 to 11 – Primary 5 to Primary 7)
Company Section (boys in Secondary School)
Arrangements for Junior and Company sections meetings will follow:

At Cairncastle  Boys' Brigade, we aim to provide opportunities for children and young people to meet together in their communities and engage in a range of fun and developmental activities.
Each week each group has opening devotions that are bible based, to encourage  the development of a personal Christian faith in our children and young people.
We offer support to all boys and are responsive to the needs of all our children and young people regardless of differing abilities, identities, backgrounds.
We ensure the safety and wellbeing of children and young people through the implementation of robust procedures in the selection, development and supervision of leaders.
If you have any questions at all about Boys' Brigade, please speak to a leader.