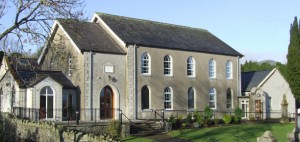 Cairncastle (from Irish carn, meaning "mound", and the English word "castle") is a small village in Co Antrim,  situated about five miles north of Larne and inland from the village of Ballygally.
Cairncastle Presbyterian Church is one of the oldest congregations of the Presbyterian Church in Ireland.  The congregation was founded in 1646, four years after the foundation year of the Presbytery of Carrickfergus, which is the oldest presbytery in Ireland.  The current church was opened on 24th May 1831.
The first minister, Rev Patrick Adair (1646-74) wrote the earliest history of Presbyterianism in Ireland.
An extensive building programme was completed some years ago which has provided not only extra and refurbished facilities, but also much needed disabled access.  Our whole community was involved in the various fund raising activities and the strong links, developed over many years, were evident in the support so willingly given.  These facilities are now being well used not only for our own activities and organisations, but also for various community events.
We continue to have strong links with Cairncastle Primary School which was founded by Cairncastle Presbyterian Church in 1831 in what is now the hall of the Non-Subscribing Presbyterian Church.  The school later moved to new premises on the Drumnagreagh Road, adjacent to the Presbyterian Church.  That building was vacated in 1979 when the present modern accommodation on the Cairncastle Road was built.
There is normally one service at 11.00am each Sunday although on occasions, such as at Easter, Harvest and Christmas there may be evening services.  Worship is led by the Church Choir and on occasions by our Praise Group providing a balance between traditional and contemporary hymns.  Singing has been enhanced by the provision of data projectors and occasional video clips and slides have become a useful and effective addition.  Elders and members of the congregation are encouraged to be responsible for some of the Bible readings and prayers of intercession.
Sunday School takes place during the second part of the service each Sunday while Bible class for the young people of secondary school age is held on two Sunday's each month at the same time with the leaders of both working on a rota system.
Further fellowship is enjoyed after the service with the provision of tea, coffee and biscuits in the vestibule area.
Please browse our website and feel free to contact us if you have any enquiries.