If the Bible is like spiritual 'food', praying is the 'oxygen'!
"Most of all, friends, always rejoice in the Lord! I never tire of saying it: Rejoice! Keep your gentle nature so that all people will know what it looks like to walk in His footsteps. The Lord is ever present with us. Don't be anxious about things; instead, pray. Pray about everything. He longs to hear your requests, so talk to God about your needs and be thankful for what has come. And know that the peace of God (a peace that is beyond any and all of our human understanding) will stand watch over your hearts and minds in Jesus, the Anointed One." 
From Paul's Letter to the Philippians Chapter 4 ( Living Bible)
We are using the weekly prayer points from PCI.  We may also add more local prayer topics as appropriate.
| | |
| --- | --- |
| Let's Pray |         Sun 4 July – Sat 10 July 2021 |
Sunday 4 July
·     Moderator | Many families will be spending holidays more locally this year. Pray for God-given times of refreshment and for protection from any new variant of coronavirus which might further inhibit the relaxation
of restrictions.
·     Fanning the flame of congregational life: Being positive | Ask God to help congregations be positive about approaching the resumption of worship and other activities after such a long and wearying season of
restrictions on gathering.
Monday 5 July
·     Stephen & Angelina Cowan (global mission workers in Kenya) | Pray for the youth camps to be held later this month. Due to Covid-19, most likely they will be smaller than normal, in several locations and led by senior youth from Tuum. Pray for good attendance and for many to dedicate their lives to following Christ.
·     Global Developement | Pray for the ongoing work of Christian Aid and Tearfund seeking to help people in great need throughout the world, sharing the gospel through love in action.
Tuesday 6 July
·      Hazel Reid (deaconess) | Pray for Hazel Reid as she continues to meet the pastoral needs of First Broughshane congregation and also works as part-time chaplain at N. Ireland Hospice and Causeway Hospital. Pray that her ministry will be effective and fruitful, bringing comfort to people and glory to God.
·      Arklow | Pray for the home mission congregation of Arklow; especially for Rev Michael Anderson, the Kirk Session and Irish mission worker Philip Whelton as they make plans to get activities up and running again.
Wednesday 7 July
·      Zambia | Pray for the nation of Zambia where Covid-19 cases have risen rapidly over the past month. Pray that people will take Covid-19 seriously and try to protect themselves and others by wearing face masks and social distancing. Pray for the leadership of CCAP Synod of Zambia as they endeavour to guide people.
·      Diane Cusick (global mission worker, Zambia) | Pray for Diane as she works from home in Lusaka & remember the teachers and children who were just suddenly told to stop school. Pray for their safety from the virus.
Thursday 8 July
·     Timothy Vaughan (community outreach worker in Garnerville, Belfast) | Pray for the church's community football club held in the local estate, that many children and young people will attend and for good relationships with them. Pray too for the plans for the congregation's children's week due to be held at the end of August.
·     Athy and Carlow | Pray for the functioning of the congregations under the current restrictions. Pray particularly for the young people and that their leaders will be able to organise some activities for them over the summer.
Friday 9 July
·     Social Witness | Pray for our Home Managers as they continue to manage the challenges of Covid-19 & plan for more normal times. Pray for renewed strength and good health as they fight the fatigue of the past 16 months. Give thanks that they have been able to steer their Home/Unit through this most challenging time.
·     Families | As the school holidays begin pray that although some restrictions are still in place, families would have time to rest and have fun together. Pray especially for those caring for loved ones with additional needs, that the right support would be available over the summer months.
Saturday 10 July
·     General Council | Pray for safety and protection and a sense of peace and calm throughout Northern Ireland, especially on the 11th night and the 12th July itself.  Pray for wisdom for those both organizing and policing various parades and gatherings, so that needless tension will not build up at a sensitive time of the year.
·     Council for Training in Ministry | Pray for ministry students undertaking full-time summer assistantships in congregations through Ireland. Pray that they will both gain broader experience of ministry in different contexts
and bring blessing to the congregations where they are working.
| | |
| --- | --- |
| Let's Pray |         Sun 27 June – Sat 3 July 2021 |
Sunday 27 June
·     Moderator | Pray for our political leaders in both jurisdictions at this time of much change and uncertainty.
Pray for wise decision-making which honours God and is for the good of everybody.
·     Being a grateful people | Ask God to help us to be a grateful people, aware of his many blessings, thankful
for his love, mercy, grace and kindness towards us.
Monday 28 June
·     India | Pray for all affected by Covid-19 in India. Pray for the leaders and members of our partner, the Church of North India, in particular the Diocese of Gujarat, one of the worst affected areas, as they seek to minister and witness throughout the pandemic. Pray too for congregations who have lost their ministers due to Covid-19.
·     Hungarian Reformed Church | Pray for the work and witness of the Hungarian Reformed Church in Hungary, Romania and Ukraine. Pray for all the Bible Clubs, camps, etc, for children and young people this summer.
Tuesday 29 June
·      University chaplains | Pray that staff, students and chaplains will be refreshed over the summer break. Pray for students graduating this summer, many of whom will be looking for jobs in a difficult economic climate.
·      Aghada & Cork | Pray for the church communities to grow in their love for each other and to invite others to worship with them. Pray for the minister to preach with power and passion, and for all of us to grow in grace.
Wednesday 30 June
·      United Mission to Nepal (UMN) | Give thanks that UMN's general agreement with the government of Nepal
has been signed. Pray that the interim project and Covid-19 response agreements will now be signed quickly.
·      Peter & Valerie Lockwood (global mission workers, Nepal) | Pray for the challenging situation in the UMN hospitals in Tansen & Okhaldhunga as they provide primary healthcare and are at the frontline of the Covid-19 response. Pray too for the Lockwood family as they work through the changes that Covid-19 has necessitated.
Thursday 1 July
·     Prison chaplains | Pray for those in prison, their families and prison staff. Pray that all may come to know and love the Lord and his ways. Pray too for prison chaplains as they share the gospel and provide pastoral care. 
·     Alt (Co Donegal) | Thank God for helping us all physically and emotionally during lockdown and for good attendances at Sunday services. Pray for refreshment over the summer months, for comfort and healing for all who struggle with illness. Pray too for a return to normality and for wisdom in future planning.
Friday 2 July
·     Social Witness | Pray for our homes & units as they plan their summer activities & outings, praying that residents & tenants may find comfort & relaxation as they participate & benefit from the new freedom. Give thanks for all who will accompany them, that they will be given renewed energy & enthusiasm as they fulfil this important task.
·     Civil Service | Give thanks for civil servants who support the Government of Ireland and the Northern Ireland Executive. Pray for wisdom, good management and diligence in the support of policy-making and delivery of services to the public.
Saturday 3 July
·     General Council | Please pray for the ongoing work of the Linkage commission, particularly in processing Leave
to Call for vacant congregations. Pray especially for the convener, Mr James Livingstone and the Chair, the Very
Rev Dr Michael Barry in that work.
·     Council for Training in Ministry | The Accredited Preacher Scheme meets Mon – Fri next week, for intensive teaching in Union College. Pray for the trainees that the Lord will equip them to serve him in this way in his
Church. Pray too for the teachers, that the Lord will use them to teach effectively. Pray for existing Accredited Preachers as they preach in congregations throughout Ireland.
| | |
| --- | --- |
| Let's Pray |         Sun 20 June – Sat 26 June 2021 |
Sunday 20 June
·     Moderator | Give thanks that the Church Leaders of the major Christian traditions in Ireland can speak
together on matters of national concern, and do so with a united voice. Pray for the Irish Council of Churches and its current President, Very Rev Dr Ivan Patterson.
·     Being an obedient people | Ask God to help us to be an obedient people, aware of our tendency to want to go our own way, ready to trust that his ways for us are good and right and true.
Monday 21 June
·     Covid-19 | Pray for all affected by Covid-19 around the world; those who have the virus, those recovering, and those who have lost loved ones. Pray for people around the world who are suffering due to pressures on healthcare systems and those suffering great hardship due to economic effects of the pandemic.
·     Gary & Mary Reid (global mission workers, Kenya) | Pray for the church families in Olkinyei & Siana, that they will be guided by God. Pray that many more people in Maasailand will come to know Jesus as their Saviour.
Tuesday 22 June
·      Rev Norman Harrison (chaplain, Royal Group of Hospitals) | Pray for wisdom and guidance for Norman as
he provides pastoral care and support to patients, their families and staff during difficult times. 
·      Taughmonagh, Belfast | Give thanks that the members of Taughmonagh have remained faithful to God during lockdown. Remaining a close church family, they continue to be generous in their giving and have welcomed some new faces with the return of in-person times of worship.
Wednesday 23 June
·      Steve & Rosie Kennedy (global mission workers, Romania) | Pray for ongoing involvement in the daily life and witness of Tóköz congregation through the Youth Band and most recently Bible Class, alongside preaching for Steve and work in the Kindergarten for Rosie.
·      Presbyterian Church of East Africa (PCEA) | Pray for the leadership and members of PCEA's congregations (over 1,000 in Kenya and a small number in Tanzania and Uganda). Pray that the church will continue to grow.
Thursday 24 June
·     Tracey Nicholl (deaconess in St James', Ballymoney) | Pray for Living Hope Community which Tracey is involved with, who hope to distribute school uniforms in August to families in need in their local community. Pray also that the Lord would use Tracey in this time to glorify him. 
·     Westbourne, Belfast | Pray for the urban mission congregation of Westbourne in east Belfast. Pray too for the local community, especially over the summer months, when tensions can increase.
Friday 25 June
·     Social Witness | Pray that the numerous staff vacancies within Social Witness (CSW) will be filled, and that the recruitment campaigns may produce suitable applicants. Give thanks for those who have recently started employment in CSW and for the Personnel Department who work tirelessly to recruit.
·     World Leaders | Following the recent meeting of the G7 hosted by the UK, pray that commitments made by
global leaders in relation to global vaccine rollout and climate change will be implemented and have a positive impact for those countries facing the worst effects of these significant challenges.
Saturday 26 June
·     General Council | The General Council, the most representative body of the General Assembly, meets next week,
on 30 June.  Please pray for wisdom in decision making as reports are received and necessary preparations are
agreed for the forthcoming meeting of the General Assembly in October 2021.
·     Council for Training in Ministry | Union College Management Committee meets on 28 June. Give thanks for the
past academic year, & for how the Lord sustained staff & students through very testing times. Pray the Lord would give the Committee wisdom, especially as significant repairs are needed to the library ceiling and heating system.
Sunday 13 June
·     Moderator | As the 'marching season' approaches, pray for calm in Northern Ireland, especially in the light of recent street violence.  Pray for the excellent work being done by PCI congregations in inner city areas.
·     Being a prayerful people | Ask God to help us to be a prayerful people, aware of his presence with us, always looking to him expectant that he will lead, guide and direct our steps.
Monday 14 June
·     Middle East | Pray for students and staff at JETS as they engage in the theological teaching-learning process under some restrictions in relation to Covid-19. Thank God that in spite of the disruption caused by the pandemic, JETS continues its strategic role in the Middle East 'training Arab leaders for the Arab world'.
·     Myanmar | Pray for a just and peaceful resolution to the ongoing civil unrest following the military coup earlier this year. Pray for the leaders and members of the Presbyterian Church of Myanmar at this difficult time.
Tuesday 15 June
·      International Meeting Point | Pray for the staff and volunteers at International Meeting Point in South & North Belfast. Pray in particular for the Op Shop and for various meetings and Bible Studies as they restart in-person.
·      St Columba's, Lisburn | Pray for outreach into the community. Pray for "The Kid's Club" which began outdoors on 3 June and will run for six weeks. Give thanks for the great turnout so far. For many of those children this is their only "Sunday School". Pray for deeper links with their families. 
Wednesday 16 June
·      Naomi Keefe (global mission worker, Brazil) | Pray for the evangelistic activities Naomi is involved in around St John the Baptist day. They plan to distribute soap packages to families which include simple devotional material explaining how Jesus alone can cleanse our sins. Pray that many will turn to him in repentance and faith.
·      Brazil | Pray for the people of Brazil who are suffering greatly from Covid-19. Pray for the witness of the Presbyterian Church of Brazil, that leaders and members will bring God's comfort and strength to many.
Thursday 17 June
·     Philip Whelton (Irish mission worker, Arklow) | Pray for preparations to resume some activities in the autumn. This includes keeping parents updated regarding children & youth clubs, and maintaining a visible presence in town to remain in contact with people & assure them of the church's care and concern for their well-being. 
·     Strand (East Belfast) | Pray for good fellowship amongst the congregation meeting together on Sundays.
Pray for the children and young people who go to Sunday Pals, that many will commit their lives to Christ.
Friday 18 June
·     Social Witness | Pray for all the home managers within CSW as they continue to work through the most challenging period in the life of the Social Care Sector – that they may guide their teams with renewed energy
into this important transitional time of returning to more normal routines. Give thanks that we are blessed with managers, who have shown great dedication and compassion over the past 15 months.
·     Council for Public Affairs | Following a recent meeting of the Council for Public Affairs pray for Rev Daniel Kane
in his role as convener and as the Church seeks to have its voice heard clearly in the public square.
Saturday 19 June
·     General Council | As congregations in Northern Ireland plan ahead for summer activities, pray for guidance for
kirk sessions and youth and children's leaders.  Please pray that restrictions in ROI will soon also allow such
activities to take place.
·     Council for Training in Ministry | Three lecturer posts are vacant in Union College due to recent or pending retirements, and through colleagues moving on to new roles. Pray for the interview and selection process, that the Lord will guide clearly and that people will be appointed who he will be pleased to use in teaching students and training ministers.
Connecting with God through prayer is one of the extrordinary joys and privileges of being a Christian believer, but our calling to enjoy a prayer relationship with God goes far beyond our individual prayer lives -we are called to pray together.  If you live in the area or are connected with us in some way, be assured that there are people in our church who pray for you regularly. We particularly remember those who are going through times of illness, depression, loss and despair. We also give thanks to God for all the blessings that our community enjoys and, more than ever in these desperately  troubled times, we pray for those caught up in the terrible global conflicts and in the traps of poverty, oppression and disease.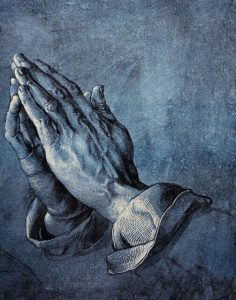 The image that we use for Pray Together was created by Ken Teegardin for his site www.SeniorLiving.Org. We are using it with permission ( Cairncastle Presbyterian church is not responsible for the content of external links)