If the Bible is like spiritual 'food', praying is the 'oxygen'!
"Most of all, friends, always rejoice in the Lord! I never tire of saying it: Rejoice! Keep your gentle nature so that all people will know what it looks like to walk in His footsteps. The Lord is ever present with us. Don't be anxious about things; instead, pray. Pray about everything. He longs to hear your requests, so talk to God about your needs and be thankful for what has come. And know that the peace of God (a peace that is beyond any and all of our human understanding) will stand watch over your hearts and minds in Jesus, the Anointed One." 
From Paul's Letter to the Philippians Chapter 4 ( Living Bible)
We are using the weekly prayer points from PCI.  We may also add more local prayer topics as appropriate.
10th April 2021
Prayer in a time of trouble
Lord, things aren't right and we are frustrated.
Our anger tempts us to speak rashly,
too easily blaming and condemning others for everything.
Tension boils, prompting violence and destruction.
We surrender to the lying voices of hatred and anarchy.
Lord, save us!
Deliver us from the madness of conflict.
Send your angels to patrol our streets,
protecting innocent and vulnerable,
restraining those who are turning to wickedness.
May your Spirit teach wisdom,
a godly respect, an awakened conscience.
Sow in our hearts again the seeds of humility
and service and peace.
We confess our selfish indulgence and idols of this world
that have abandoned this generation to despair.
Forgive us and turn our hearts with zeal once more to Christ.
Prince of Peace, retake command in our hearts
and lead us in paths of righteousness and overcoming love.
For Your name's sake, Jesus.
Amen
| | |
| --- | --- |
| Let's Pray |        Sun 18 April – Sat 24 April 2021 |
Sunday 18 April
·     Moderator | Pray for the leaders of organisations who, in Northern Ireland, may be able to plan for a limited return to some face to face meeting. Pray for congregations in the Republic, where restrictions preventing meeting together remain in place.
·     Worshipping God for his enduring love | 'Give thanks to the Lord, for he is good. His love endures forever.' Psalm 136:1. Today as we worship in person, online or on our own, give thanks to God for his goodness and
love throughout our experience of the pandemic.
Monday 19 April
·     Indonesia | Pray for Timor & nearby islands which were hit by Tropical Cyclone Seroja on Easter Sunday with severe winds, rains, floods & landslides causing loss of life & major damage to communications, roads etc. Pray for all affected, especially for the leaders & members of our partner, the Evangelical Christian Church in Timor.
·     Brazil | Pray for the people of Brazil who are suffering greatly from Covid-19. Pray for the witness of the Presbyterian Church of Brazil, that leaders and members will bring God's comfort and strength to many.
Tuesday 20 April
·      Louise Davidson (deaconess in West Church, Bangor) | Pray for the women's ministry in the church & for the key role Louise plays in this. Pray that all the women who attend online meetings and events will feel a warm welcome & the power and presence of Jesus. Pray all will have a real desire to go deeper in their walk with God.
·      Glenelly (Co Tyrone) | Give thanks that during lockdown the congregation was able to hold drive-in services. Pray for the regular preaching of the Word – that sinners would be saved and believers built up in their faith.
Wednesday 21 April
·      St Petersburg Christian University, Russia | Give thanks for the mission trip by students and staff from the university to South Africa and pray that the students on the trip will have new vision and perspectives. Pray
that God will bless all the work of the university and multiply it in the ministry of its former students.
·      Nepal | Pray for United Mission to Nepal as it works hard to conclude its new General Agreement with the
government of Nepal, including obtaining all necessary work permits for both expats and Nepali employees.
Thursday 22 April
·      Josh McCance (community outreach worker, Donabate & Balbriggan | Praise God for a great response to the spiritual gifts workshop held online. Pray that this would help people think about how they can use their gifts. Pray that the members of the church family grow in faith as they look forward to meeting again in person.
·      University chaplains | Pray for students coming towards the end of their last semester of the academic year and preparing for exams. Pray for PCI chaplains who continue to offer pastoral support to students and staff.
Friday 23 April
·     Social Witness | Pray for all who partner our homes/units – in providing food, maintenance, medical & nursing services, cleaning materials, PPE & all essential goods. Give thanks that they have maintained services through-out the Covid-19 crisis and have played a vital part in keeping our quality of care at a high and safe standard.
·     Businesses | Give thanks for people who use their talents and gifts in the business world. Pray that those
working in businesses soon to re-open to the public would be equipped to make good and wise decisions
following this long time of uncertainty.
·      
Saturday 24 April
·     General Council | Give thanks for the work of those who work in the General Secretary's Department in Assembly Buildings led by the Clerk, Trevor Gribben.  Pray for those who are involved in answering numerous queries and fulfilling vital administrative tasks, often having to work from home and in challenging circumstances. 
·     Council for Training in Ministry | Pray for PCI Conciliators at their training session this morning. They are trained to help people and groups work towards understanding and resolution in difficult situations, as well as leading courses on understanding conflict, healthy decision making, living with difference and managing change. Contact with the service is through email at deputyclerk@presbyterianireland.org
| | |
| --- | --- |
| Let's Pray |        Sun 11 April – Sat 17 April 2021 |
Sunday 11 April
·     Moderator | Pray for ministers across the church, as they seek a refreshed vision for the future of their congregations. Pray for Kirk Sessions as they pray and talk together, seeking God's leading for their next steps.
·     Worshipping the Lord | 'Ascribe to the Lord the glory due his name; worship the Lord in the splendour of holiness.' Psalm 29:2. Today as we worship in person, online or on our own, ask God that we might see his
glory and acknowledge his rule.
Monday 12 April
·      Chris & Rachel Humphries (global mission workers in Portugal) | Pray that as the restrictions in Portugal start to ease, Chris and Rachel would be able to reconnect with local people and build up their relationships with them. Give thanks for the Easter video series during Holy Week & pray that it will have encouraged many.
·     Presbyterian Church of East Africa (PCEA) | Pray for the leadership and members of PCEA's congregations (over 1,000 in Kenya and a small number in Tanzania & Uganda). Pray that the church will continue to grow.
Tuesday 13 April
·      Heidi England (deaconess in Railway Street, Lisburn) | Pray for the women who take part in the online Bible study and for Heidi as she leads it. Pray that each woman will hear God speaking clearly through God's Word and Spirit, and that the truths learned will take hold and bear fruit in their lives.
·      Greystones (Co Wicklow) | Pray for the minister Rev Gary McDowell, the elders and members of Greystones congregation as they continue to love God, encourage one another & serve the Greystones' community and beyond.
Wednesday 14 April
·      Naomi Keefe (global mission workers in Brazil) | Give thanks for all the Easter outreach opportunities and pray that God will speak to each of the families and that many will come to know Jesus as their Messiah. Pray for the Good News Club children and their families as they undertake devotions each week from home.
·      Hungarian Reformed Church | Pray for the work and witness of the Hungarian Reformed Church in Hungary, Romania and Ukraine which continues in different ways due to Covid-19 restrictions.
Thursday 15 April
·      International Meeting Point (South Belfast) | Give thanks for the ongoing food distribution to many needy families and individuals each week. Give thanks too for the Bible studies which have been taking place online and that one woman recently came to faith. Pray that socially-distanced Bible studies will resume soon.
·      International Meeting Point (North Belfast) | Give thanks that the team has been able to build up relationships with the customers online during lockdown and provide them with ongoing support.
Friday 16 April
·     Social Witness | Pray for the families & friends of our residents & tenants, as they continue to work within the restraints of Covid-19. Pray that they may find suitable ways to make meaningful contact with their loved ones.
Give thanks for the resourcefulness of staff and the patience of residents, tenants and their family and friends.
·     Communities | Pray for communities that have been unsettled by recent violence and unrest. Pray for those seeking to address challenges in terms of education, employment and general wellbeing including local ministers, teachers and other community workers.
Saturday 17 April
·     General Council | Give thanks for the work of the staff, led by Laura Kelly, in the Personnel Department in Assembly Buildings.  Pray for them as they continue to lead recruitment exercises for a number of vacancies in
our residential and care homes and as they assist senior management in making challenging decisions.
·     Council for Training in Ministry | Interviews take place today for the Accredited Preacher Scheme course due
to be held in July. Give thanks for applicants as they offer themselves for service in this area, and pray for them
and the interview panels, that together they will know the Lord's guidance as to the suitability of each applicant.
Connecting with God through prayer is one of the extrordinary joys and privileges of being a Christian believer, but our calling to enjoy a prayer relationship with God goes far beyond our individual prayer lives -we are called to pray together.  If you live in the area or are connected with us in some way, be assured that there are people in our church who pray for you regularly. We particularly remember those who are going through times of illness, depression, loss and despair. We also give thanks to God for all the blessings that our community enjoys and, more than ever in these desperately  troubled times, we pray for those caught up in the terrible global conflicts and in the traps of poverty, oppression and disease.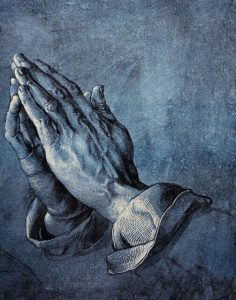 The image that we use for Pray Together was created by Ken Teegardin for his site www.SeniorLiving.Org. We are using it with permission ( Cairncastle Presbyterian church is not responsible for the content of external links)