Hi boys and girls!
This is your page where we'll be posting things just for you.
Singing Grace
In January 2022 we've been learning the following 'grace' to sing at mealtimes.  It goes to the tune of 'Five Speckled Frogs' and chords are included for guitarists.
'Singing Grace'
C                               C7
Thank You for the world so sweet
F                  A7         Dm
Thank You for the food we eat
C                 Em7      Am                          G
Thank You for the fun we have each day  (Yeah Man!)
C                       C7
Help us to be strong and good
F             A7          Dm
Just the way we know we should
C                           G7                  C     F C G7
Help us learn to live in Jesus' way.
2 Thank You for my Mum and Dad
Who love me even when I'm bad
Thanks for all my friends and family (Yo Bro!)
Help me tell the truth and share
With everybody everywhere
For Jesus' sake Who gave His life for me.
3 Thank You for our funky school
And our Teacher who is cool
Thank You for our lessons which are fun (Some more homework please!)
May we grow up wise and strong
And always know what's right and wrong
So we can help and care for everyone.
A-men
Harry (7), one of the children in our Sunday School, has been diagnosed with leukaemia and will be travelling to Bristol in the near future for a bone marrow transplant.  Please remember Harry and his family in your thoughts and prayers.  Further information about the condition and treatment can be found on the following websites:
https://www.dkms.org.uk/
https://www.anthonynolan.org/
Saturday 29th May 2021
Saturday 15th May 2021
Saturday 1st May 2021
Saturday 17th April 2021
Easter Story
Saturday 20th March 2021
14th March 2021
Watch the post this week, boys and girls, as Lisa, Janett and Valerie have been busy preparing 'goodie bags' for everyone in the run up to Easter!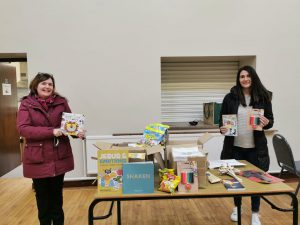 We are delighted to include in these packs two resources.  "Jesus and Emotions" is to help parents talk to their children about feelings.  'Shaken' is a booklet/game to help young people learn coping mechanisms and positive life choices.  See video below.
6th March 2021
19th February 2021
5th February 2021
Thanks to Lisa and Jannet for today's story about Moses in the Bulrushes.